23rd World Scout Jamboree, Japan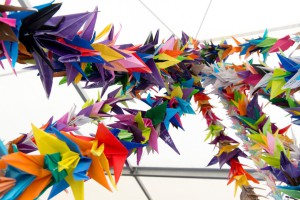 Quelle: http://scout.org/wsj2015/content/93821
What does peace mean to you? What does the Spirit of Unity mean to you? Are they one and the same? Similar, perhaps; a cause-effect combination. To have peace, there needs to be unity; and when there is unity, there will be peace. In essence, unity begets peace.
Wa: a Spirit of Unity is the theme of the 23rd World Scout Jamboree that is taking place in Kirara-hama, Yamaguchi, Japan since 28 July until 8 August. More than 33 000 Scouts from about 150 countries from different cultural backgrounds from all over the world have been living together as "neighbours" on this 286 hectare tented site. So we ask them: What does unity mean to you?
14-year-old Sparsh Khanchandani from Maharashtra, West India, said: "Friendship, joy, satisfaction, PEACE — the Jamboree will give us the opportunity to share with different people, to learn about different cultures."
Alex Chen Hung-Chun, 17, from Taiwan, said, "unity means the end of conflicts. "The Jamboree is a good starting point for us to engage with one another — there are so many countries represented here, so many different cultures; if we start the conversation here, develop the friendship here, there will be PEACE and unity," he said.
Matthew Kingwil, 15, from South Africa opined that "unity is about the integration of different cultures in the world, the union of people from different countries, the building of stronger relationships." And he believes the Jamboree is the place; "we are here from different countries, different cultures but with the same purpose — to create a better, PEACEful world."
That's it. Unity and peace go together.
And to quote the Chairperson of the World Scout Committee, João Armando Gonçalves: "Now, it is in our hands to make this Jamboree like the world we dream about: a place of PEACE, Respect, Collaboration, Diversity and Friendship."
Let PEACE start with you and me.